Oxford University Caving Club Visit
Introduction
Following the great weekend spent in Fermanagh with Kent University, Miner had messaged me wondering if I would be free again the weekend after to possibly meet up with a few Oxford University Cavers for a bit of company. Never one to turn down a weekend trip and with nothing planned for the weekend we began our email discussions.

As a group of four consisting of Phil and Rory Rose, Amelia Steane and Thomas Leung and with only a few days over, they were very keen to make a busy trip of it, packing as much activity into the weekend as possible, including Noons Hole, a Polltullyard-Shannon trip, a Marble Arch trip and if they had time a few garden caves around the area including other touristy adventures.

Meeting on the Friday at the Hoo I discovered all of their gear, just no cavers. Turns out they had everything but matches so had to make the quick stop back down to Belcoo. On their arrival however the veg chopping began and in quick succession they had whipped up a fantastic evening meal, some further fantastic hospitality would be seen throughout the week. I toured them around the surrounding area of the Hoo as the sun set on the evening.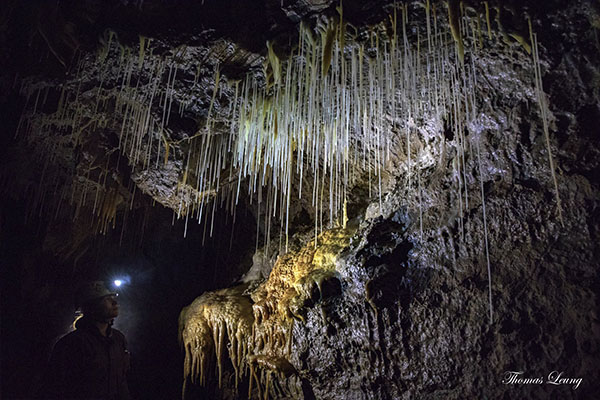 Full Credits to Thomas Leung for taking this fantastic photo of Amelia in Marble Arch Caves.
The weather over the weekend was a mixed bag and with it expected to get much worse on the Sunday/Monday, we made the quick decision whilst the Sun was still shining to get the Noons trip out of the way. What a fantastic trip it was, working with the keen eyes of Phil and Rory we made great use of the survey to explore passages I previously had yet been in. Swiftly popping down the pitches we made quick pace through the Afternoon Series, into High Noons Right we explored down the passage past the in inlets as we made our way to inlet 5 where the beautiful flowstone formation was encountered. A small section of photography was completed before we carefully crept over the flowstone (with boots of and clean feet of course). Taking a bit of time at the boulder choke for Chamber Passage we finally found the way, passing the inlet junction and making it to the tight awkward squeeze of the Arch Connection we eventually found the Oxbow Lake at Arch II! A little over 8 hours spent in total we made brilliant time and all enjoyed the trip in the process, including myself reaching passage I had yet to be in.

Recovery in the form of beer, wine and chocolate covered dried Strawberries & Raspberries (a new caver snack?) took place for us all that evening with a brilliant meal whipped up by Amelia that evening quickly knocked us all out to sleep in preparation for the next day.

However, on awaking it seemed the weather was going to be a bit horrible and with a bit too long of a sleep in, we decided to spend today doing a nice easy trip into Marble Arch with some photography involved by Thomas. There isn't really much to say about this trip, it went smoothly with good time and with the usual photography faff it meant we all had a good time, however it also marked on our return to the Hoo time for me to head home and prepare for work the next day.

I followed up with the team after a couple of days to find out what they had got up to on their last day. From discussions they were quickly able to find the entrance to Polltullyard-Shannon thanks to information forwarded from Petie. In Shannon they made a full trip of it, including a trip down to camp and straight back out, along with some SRT photography. They thouroughly enjoyed their time in Fermanagh and hope to return soon. I look forward to catching up with them on my journey over to CHECC 2019 later this year, of which I hope I can share my trip with the keen readers of Underground.