Home Server Build
Setup and Installation - 2019
Overview
It's been a long-term goal for me to eventually put together a home server for our house. With multiple hard drives that have been floating around for years, data split across multiple computers with no real logistics as to where things are like family photos, its got to the point where it is a complete mess.

Then one evening as I was browsing amazon, I stumbled upon some cheap Western Digital 8TB MyBook drives for only £112.99 each (about £60 off - mind you, I had been looking at them on and off for the last year), the cheapest they have ever been – so I grabbed two after which, the post-purchase sanity check started. I needed something to put these drives in… I needed to finally build this server.

Finding the right system to use as a server was probably the longest process, spending around 2 weeks crawling through eBay trying to find something with decent specifications, enough hard drive cages to allow for expandability and good value. Eventually I came across a Dell Optiplex 3020 Mid-Tower for only £90, which for its specifications including an i5-4690 (4 Cores @ 3.4GHZ) and 8GB RAM it met all of the above criteria.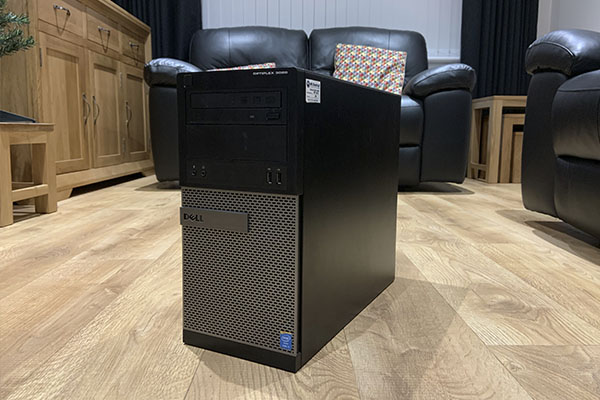 Dell Optiplex 3020 MT Tower - Computer of Choice for the Server
With hardware purchased, now I needed to decide on an Operating System (OS). FreeNAS or Unraid? The benefit of FreeNAS, is its free, but there were some issues I had with the expansion of the array after it had been built. In comparison, Unraid (although a paid solution) offers super simple expansion of the array when required. After playing around with both for about 2 weeks, I finally decided on Unraid, as I preferred its simplicity of use and the features it provided matched the requirements of this project perfectly.

The Build
Now came the time to finally put everything together. Thankfully this was an extremely simple process. I first started with re-pasting the CPU and Heatsink with new thermal compound, a good decision this turned out to be as the existing stuff had completely dried out and probably wouldn't have been good for thermal conduction.

Then onto the hard-drives. As mentioned previously, I had purchased MyBook drives. These are 'external hard' drives, but one nifty thing you can do is what is called "shucking." This basically means removing the enclosure surrounding the drive inside. It's a really easy process and takes about 5 minutes. What you need to do however after shucking it, is using a piece of Kapton tape, cover up the third power-pin from the left as shown in the image below. Failing to cover this up, will result in the drive failing to power up. Due to some changes with the SATA Power specification, this pin now is used as a disable for spinning up the drive. Once covered with tape, you gain full functionality of the drive as an internal hard drive. Pretty nifty.

Finally, I popped the two 8TB drives into the caddies included with the Dell, in addition to a small 120GB Samsung EVO 840 SSD that I had sitting around which I would use as a cache drive.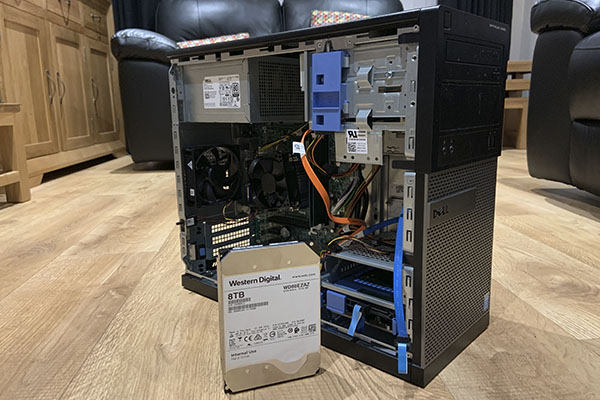 Western Digital 8TB Shucked Drive beside Helios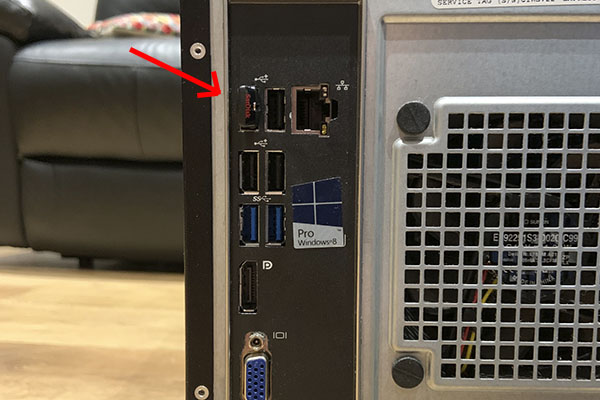 USB Drive with Unraid Operating System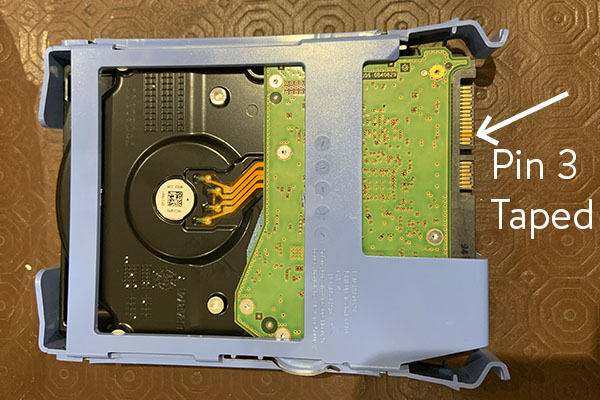 Western Digital 8TB Shucked Drive with Pin 3 Kapton Taped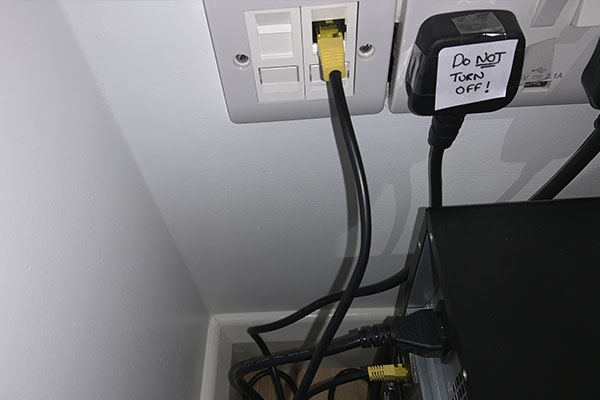 Ethernet & Power - With the large 'Do Not Turn Off' label on the plug of the router
Setting Up Unraid

Setting up Unraid is an extremely simple process and is all done using a web browser. Log into the server using the set-login information from the assigned IP address, which I had set through my router. Then the array is setup, select the parity drive and disk 1, then select the 120gb cache drive and start the array, formatting the drives where necessary. Unraid will then complete a parity check, which depending on the size of your array can take anywhere from a few hours to a couple of days. In my case, the 8TBs took around 14hours for the parity check to be completed.

I also enjoy giving all of my computers names. For desktop or laptop machines, these are named after planes, for example my desktop which is a fast machine is named 'Vulcan.' For servers however I've decided to go down the name of stars, for example the server hosting this website is called Titan and so I decided to give it the apt name of 'Helios.'

Next on my agenda was the network shares. With quite a large amount of data all over the place, it was vital I got it sorted once and for all. So a number of shares were created with best intentions, including but not limited to, photos, tv shows, movies, downloads, software and general documents. Then it was just a case of getting all the data onto the array – which, I won't lie is still ongoing!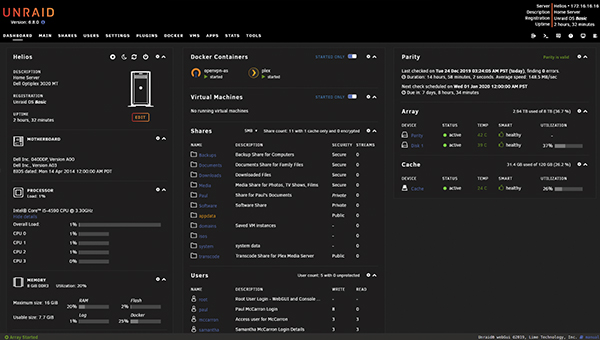 Helios Unraid GUI Interface Post Set-up
Plex Media Server

After spending some time years back digitising a lot of our movies and other associated files around the house, it was time to enlist the help of Plex to finally help sort out the accessibility of this family media. I always get complaints from mother about not being able to looks at the family pictures easily, without the assistance of me at hand.

Plex (or the similar alternatives, such as Emby) is fantastic and allows for easy accessibility of content at all times. Be that on the TV in the living room, in the bedrooms upstairs or even make use of casting content to a friend's chromecast in their house – it really is just a fantastic system. I've included some other screenshots of its interface below.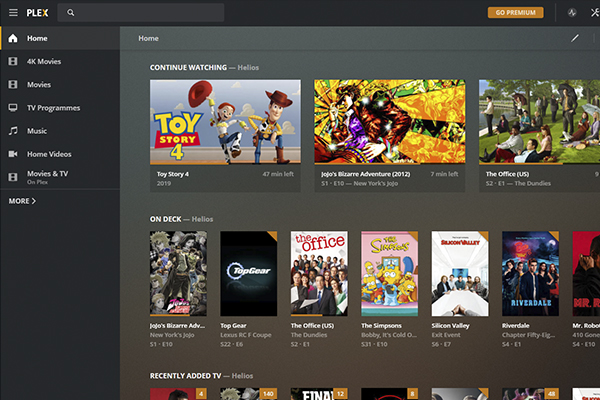 Helios Plex Media Server - User Interface for Media Playback
Verdict

There is a lot of other things I've setup on the server, remove access, virtual machines, automation, print servers etc. but I don't really want to go into that all here – maybe in another post at some point. So far its been brilliant to have all the data available in one place, with some peace of mind that the data will be slightly safer with the use of what you could refer to as a 'RAID Array.' But also, still taking the 3-2-1 approach to data integrity. In the end, the project didn't cost too much too – hitting around £390 all things considered after purchase of the Unraid license at $59.

Overall, if your intrigued by it all and have been on the fence whether to build a server for yourself, I can recommend going for it. There is loads of information on forum boards and on YouTube if you run into any issues or want to research it further.

Let's hope the terabyte addiction doesn't become a thing…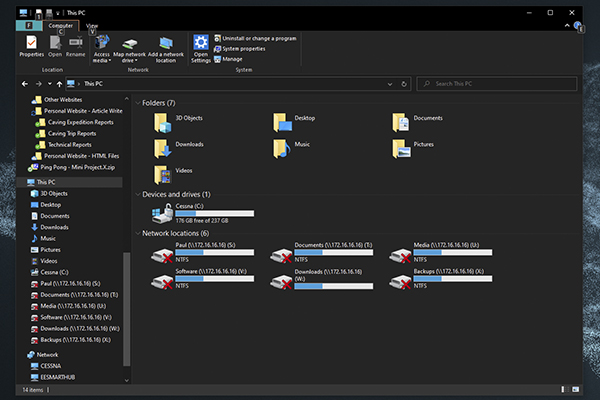 Helios - Network Shares